When the sun is shining and the air is clear, it feels nice to spend time in nature rather than cooped up inside. Hosting an outdoor event presents an exciting opportunity to do just that. It also opens countless possibilities for creative embellishments as you seek to make the chosen space memorably captivating and comfortable for your guests. Don't just settle for the bare minimum and assemble a motley crew of items because you have them around your home. Coordinate the items so that the overall setting pleases the eye. If you're wondering how to pull this off, we provide a guide on how to decorate for your outdoor event.
Color
To start, you should decide on the color scheme you want to follow for your event. You may consider what type of gathering it is (backyard party, wedding, etc.) and your personal preference to help guide you. Establish a palette that all other aspects of the event will follow. To illustrate, you may pick white as the dominant color to bring forth a feeling of brightness and levity. As you choose the tables and other decorations, you should then look for those that are white, or those that have white as their main color. With the primary hue established, you can then branch off into accent colors.
Think about the surroundings as well. Will the event take place in the middle of countryside or suburbs? Is it planned for the beach, where there is an abundance of sand and water, or will you hold it in an urban setting nestled between tall buildings? These factors can have an influence on what colors you choose. Greens and browns would suit a plant-rich setting, while blue and light tints fit well with the soft sand, gleaming sun, and glittering waves.
Seating
Seating is indispensable for just about any outdoor event. It provides a way to relax, talk, and eat peacefully. Make sure that you obtain enough seats for everyone you expect to show up, and get a few extras. The actual number of attendees can be unpredictable, and this will prevent anyone from having to stand or sit on the ground apart from everyone else.
Since the guests will most likely spend much of their time (depending on the event, that is) in their chairs, arrange them in a way that makes it easy for people to freely converse and/or have a clear view of any stage or center point where they will direct their attention.
Finally, recall the colors that you decided on in your initial planning stages and use them to direct your chairs' style. They don't have to match the main color exactly, but they should work well with it.
Food Display
Most of the time, any kind of get-together involves food. Make your food also act as a part of the decorations by arranging it in a beautiful food display on a table set apart for the purpose. You could go for symmetry and neatness or organize the food in eye-catching patterns. You can also get dessert stands that have multiple levels, as this will place the attention of the guests on the desserts or small edibles that you fill them with. With these methods of positioning, your food will act like a three-dimensional work of art.
Simple Decorations
Not every component of your design needs to be fancy. In fact, you can find many effective decorations at your local stores at an affordable price. Balloons and streamers are popular options, but you can get even more imaginative. For some varying texture, you could buy fabric from a craft store and cut it into different shapes and lengths. Then you can hang the pieces up around the event area or adorn tabletops and the backs of chairs.
Natural Things
You can go one step beyond matching your colors to the surroundings by integrating pieces of nature itself into your event ornamentation. A more obvious choice would be flowers, which can sometimes have a low cost and can bring the presentation of the event an element of softness and elegance. Put them in vases on tables, or stick them on areas that look a bit bare.
Wood is a material that you can use for outdoor events due to its organic origin and appearance. Alongside wooden chairs and tables, you can consider using wooden signs and small decorative pieces such as drink coasters.
If your event is scheduled for a date in a brisker month, you could use tree branches or pinecones to reflect the season as well. A beach event, in contrast, could do with some pretty seashells or starfish. By assimilating these small representations of nature into your décor, you can seamlessly blend the event with the environment that it will take place in.
Lights
Outdoor gatherings that take place in the afternoon and on into the night need some form of lighting as the sun sets and the area dims. Darkness alone brings about a lot of tripping and bumping, but with a few well-placed lights, your event can feel warm and entrancing in a way that any other time of day just can't replicate. You can scatter paper lanterns or candles around the tables to contribute a mellow radiance to dinner and conversation. You can match the design of the lanterns and the candles to the other decorations' colors, or you may want to fashion them in a natural style. For example, you can use wooden candle holders that resemble miniature upright logs.
To illuminate the entire event area, set up party tent lights on strings around the frame of the tent. Cover nearby trees and buildings as well. You can fit lights in just about any high place because of how they can be wrapped around objects. These lights will also bring a more pervasive brightness than candle flames could accomplish alone.
If you're planning an outdoor event and need some way to light it up, contact Action Lighting for a vast array of lights made to operate in an open-air setting.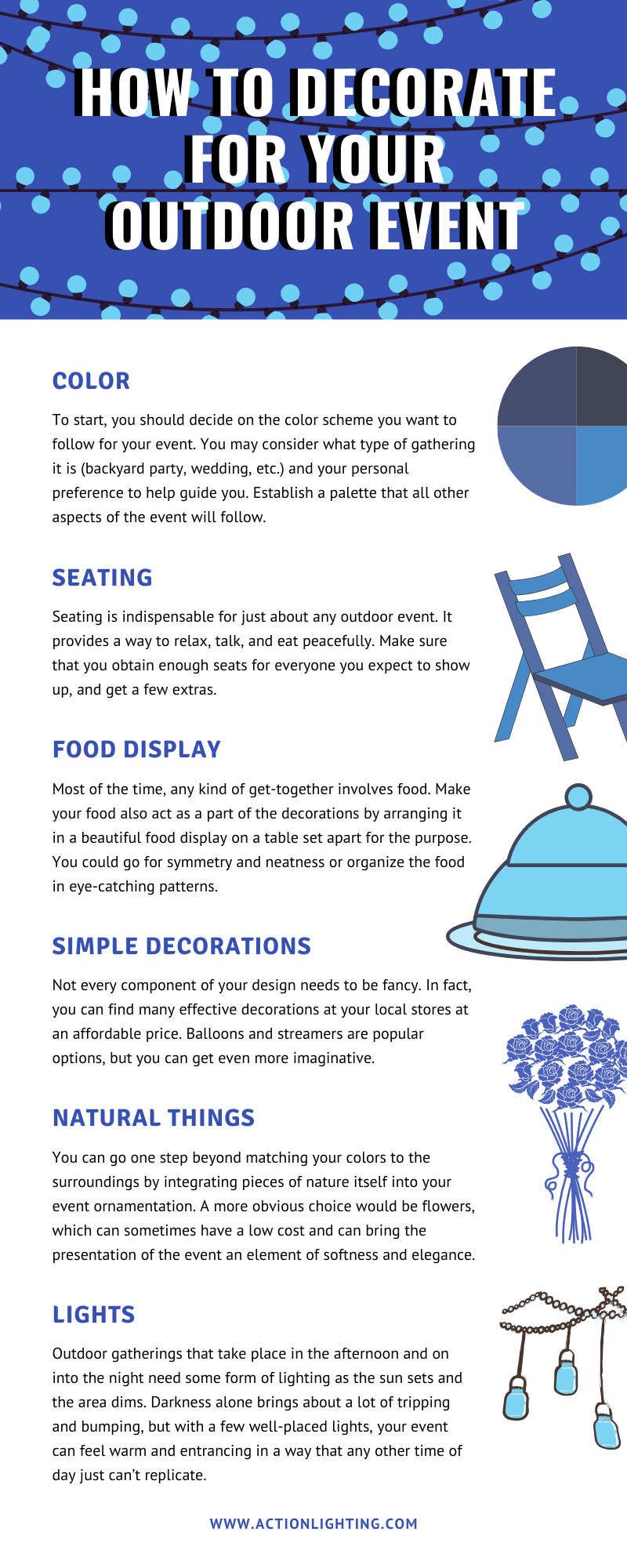 Recent Posts
Light is an intrinsic part of Fourth of July celebrations. Among the first images that come to mind …

Although your freedom to go about is restricted at the moment due to the coronavirus pandemic, you c …

Most people associate string lights with the Christmas season, promptly packing them away com …