Direct volume importers and manufacturers. Come explore the exciting products from Action Lighting™!
Welcome to Action Lighting™, your premier destination for all your lighting needs! As direct volume importers and manufacturers, we are proud to offer an exciting range of top-quality products that will illuminate your world.
Our journey began in 1987 when the owners, driven by their entrepreneurial spirit, and initially starting with a unique product—smoking golf balls—sparked a demand for light bulbs, leading to the creation of Action Lighting™.
From its humble beginnings, Action Lighting™ has grown into a thriving business over the past 36 years, always prioritizing our customers. With our ever-expanding range of lighting-related products, we operate from three spacious warehouses and utilize over 30 ocean containers for dry storage.
We proudly serve a diverse clientele, including large amusement parks, wedding venues, Christmas decorators, sign shops, casinos, museums, scenery shops, and various other businesses on a year-round basis. Our commitment to delivering exceptional service has enabled us to establish a global presence through regular exports.
At Action Lighting™, we stand out with our manufacturing division, which specializes in "tailor-made" chase or steady lit channel systems for building exteriors, interiors, window outlines, marquees, amusement rides and much, much more. When you visit fairs or amusement parks, take a moment to appreciate the lighting—it's highly likely that Action Lighting™ played a part in enhancing your experience!
We are ready to bring your lighting ideas to life. Whether you prefer the timeless charm of incandescent lights or the latest cutting-edge LED technology, our knowledgeable staff is here to assist you in creating a superior design that meets your needs.
Come and explore the exciting world of lighting at Action Lighting™. We are passionate about illuminating your spaces and ensuring your satisfaction with our top-notch products and dedicated service. Contact us today and let us light up your world!
Elwood Bakken Jeff Stevens
Direct: (406) 585-9411 Direct: (406) 586-2383
elwood@actionlighting.com jeff@actionlighting.com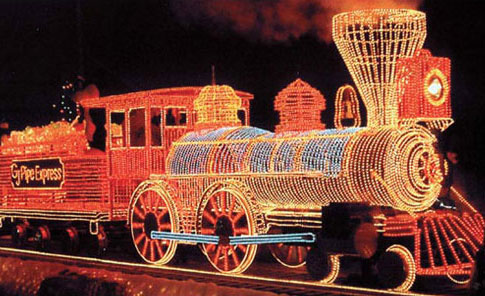 Lighting Application
A special trailer was built for this train: It took 60 feet of flat deck to mount the train. The train has 7,300 feet of ropelight and approximately 87,000 lights. The train from start to finish took 3,800 man hours to construct. This train was constructed by Grand Junction Pipe and Supply Co of Grand Junction, Colorado. The photo is courtesy of Grand Junction Pipe and Supply.
We have developed a very large following of Commercial Designers, Cities, Holiday Drive-Through Parks, Commercial Holiday Decorators whom we serve with an exceptional Holiday Lighting offering of up to date quality products. You will find our pricing policy to be exceptionally competitive on all items. You will also find our products to be of the very best quality obtainable.
---
Contact us:
Shipping/Mailing Address: Action Lighting™ Inc. 310 Ice Pond Road Bozeman, MT 59715
Phone: (406) 586-5105 (406) 585-3078 (fax) action@actionlighting.com (email)
Hours: Monday - Thursday: 8am - 5pm MST Friday: 8am -1:00pm MST