A winter wedding is an indisputably magical occasion. There's something ethereal about the concept of reciting your vows to your other half against a backdrop of untouched snow. When you imagine a winter wedding, you may think first of the shadows of trees illuminated by soft lighting. This creates a fairytale setting that's difficult to replicate, and that will stay in your mind forever. Lighting is one of the key elements of a winter wedding, and you can't create the scene without it. There are dozens of ways that you can use lighting to enhance the feeling of your wedding. As experts in lighting, we share a few ideas that will help make your winter wedding truly shine.
Put Lights in Your Flower Vases
It isn't uncommon for the centerpieces at a wedding reception to be beautiful vases filled with fresh blooms. You can add a cozy ambiance to the scene by placing small lights at the bottom of the vases. They'll illuminate the flowers in a way that makes them feel completely magical. You can also enhance your centerpiece by arranging a few tea lights around the vases.
Hang Patio Lights Over Reception Hall Tables
The look of patio string lights makes them perfect to hang over a few of the tables in your reception hall. The overhead glow will look exquisite as it reflects off of your cake. It will also add something extra to the gift table as it begins to fill up. You could also hang traditional wedding tent lights behind the table to bask it in a curtain of light.
Position Lights Along the Aisle
A white wedding dress is a perfect canvas for catching the reflections of lights and movement. String lights or lanterns framing the aisle will make the bride look luminescent as she glides down the aisle. However, we recommend keeping the aisle clear and leaving enough space between the lights so that the bride's dress won't catch on any of them.
Place Lights Behind Wall Curtains
Create a subtle glow in the reception hall by placing lights behind sheer curtains along the wall. You can use either string or LED strip lights for this, as you can evenly distribute the light with either option. We believe that you can get the best results by having the lights travel all the way down the wall.
Use Lanterns
Few things say winter lighting quite like lanterns does. No matter where you place them, they're sure to add a lot to an already established scene. These can go on tables, down the aisle, or hang from ceilings or tree branches. Anywhere they hang from would be a perfect place to take pictures.
Mix Lights Into Shrubbery
It isn't uncommon for weddings to have some form of shrubbery, especially in the wintertime. You can place net or string lights so that they will shine through the green of shrubs or garland. If there are any rails in your wedding venue, the illuminated garland is an excellent accent.
Reflect Lights off a Mirror Bulb
There's a chance that you'll have a disco ball or mirror bulb hanging above the dance floor. While this is beautiful on its own, the reflection of lights will allow it to shine to its full capacity. Thoughtfully placed lighting will bounce off the different angles of the ball. This will create shards of silver light all across the dancefloor. These slivers of light will look like winter icicles, and therefore add to the winter scene.
Suspended Lights
The ceiling of any venue usually presents several square feet of under-utilized space. This creates the perfect opportunity for hanging different lighting. Consider using string lights in different ways, whether you manipulate them to hang in a curve or simply allow them to hang straight down. You can also combine lights with paper lanterns, even placing some lights inside so that they shine through.
Enhance Chandeliers
Another way to maximize your ceiling space is through the use of chandeliers. You can use fake candles, however, it's not as common to use real flames in chandeliers as it once was. But, an even more extravagant way to use chandeliers is to wrap them with string lights. This will really make them pop, especially in photographs. A large chandelier outfitted with lights is an excellent statement piece for your wedding decorations.
Picture Backdrop
It's far from out of the ordinary for weddings to have a backdrop for the wedding party and guests to use. While the use of lights is a great way to make your backdrop stand out, you want to be sure that you hang them in a way that will show up well in photos. If you use too many, or they're arranged in a certain manner, they may reflect off the camera lens and create an unattractive outcome. We would recommend using the lights behind sheer curtains above—this will mute them just enough to show up well in pictures.
Have a Christmas Tree
Is your wedding in December? If so, what could be better than a Christmas tree? Choose a beautiful tree to fill up some space in your reception hall. If you do choose to have one, encourage your guests to place their gifts beneath it. This is an excellent photo opportunity, and a great way to recognize two special occasions at once.
Brilliant Wedding Arch
Our last idea is to create a wedding arch made of lights. Starts with a metal base and wrap lights around it until you have as many as you need. You and your spouse will warmly glow as you exchange your vows, as well as your rings. If you'd like, you can also incorporate garland into the arch to add a bit of nature to the scene.
The Best Supplies
We believe that a winter wedding can never have too many lights. Lighting, after all, is the foundation of any room—it adds character that a venue would otherwise lack. If you need a variety of lights, don't take the time you need to plan other aspects of your wedding outsourcing from several different companies. Here at Action Lighting, we can meet your decoration needs. Enjoy your wedding and leave the lights to us!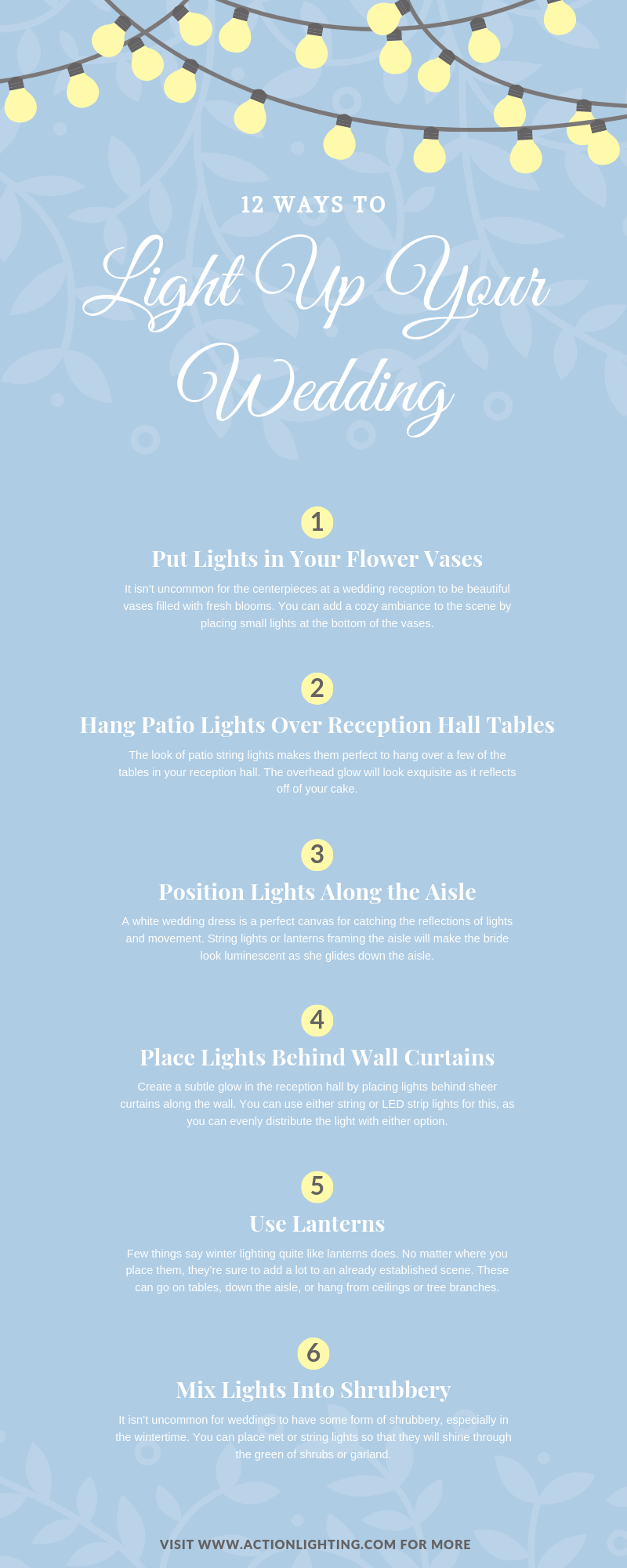 Recent Posts
Light is an intrinsic part of Fourth of July celebrations. Among the first images that come to mind …

Although your freedom to go about is restricted at the moment due to the coronavirus pandemic, you c …

Most people associate string lights with the Christmas season, promptly packing them away com …